P. K. Williams
Mixed Media Painting
I enjoy working in a series. It allows me to truly explore, research and develop a concept. Once I have an idea for a series, I revel in the anticipation of a new beginning. I always consider the basic elements however; I don't let that drive my creative process. I begin a first layer, no matter what the medium, and even though I have a plan I do a lot of "playing". I'm not too worried about the way things look. This is just the beginning. I continue to add layers no matter what the medium; acrylics, cold wax and oil, water media or mixed media collage. The last phase of the process reeks of frustration due to the weight of "impending perfection". At times I will leave a painting alone for weeks and move on to another in the series or a completely different project. I have to let go of preconceived notions and work with the piece as it evolves. Once I allow myself that luxury, I am back to feeling satisfied. These feelings of frustration and satisfaction alternate several times during my process. When I become overwhelmed with satisfaction; I know the piece is complete.
My Mixed Media Process/ Small Epoxy Resin Pieces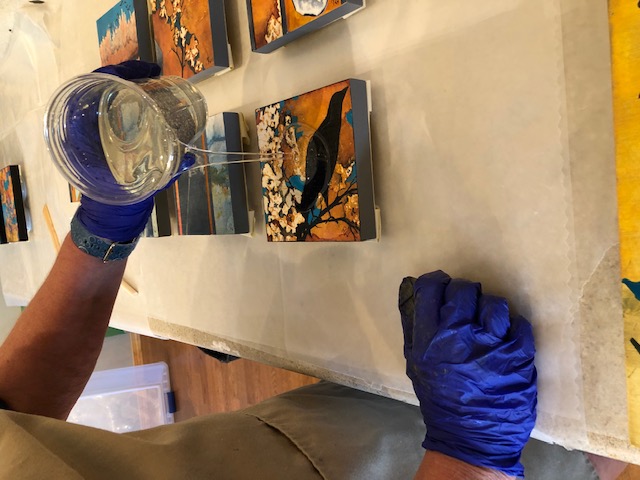 I enjoy working with this smaller format, although, in some ways it is more challenging than my larger work. These little pieces may seem simple since they are so tiny but they actually take several steps to complete and, while there is less area to cover, it is often more difficult to work on such a small scale without losing details. Even though the process is long and somewhat arduous at times, the results are worth it: they are like precious, little jewels.
© Copyright pkwfineart.com